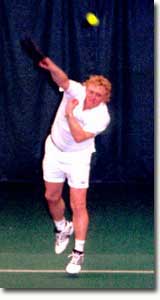 The Tennis Lesson Journal-365 Tips to Make You a Better Player is available. Dr. Byron "Bucky" Phillips has consolidated 28 years of professional playing and teaching into this book which is the first of its kind. His book combines instructional tips with a journal and a scheduler. It is for all levels of players. Bucky is the author of A Guide to Master Teaching. Currently, he is completing his third book, The Rise and Fall of American Education.
In The Tennis Lesson Journal, Bucky teaches you to become a better tennis player and a better person by applying his unique blending of the technical, physical, mental, and emotional dimensions of the game.
As a player Bucky won 119 tournaments and achieved a national ranking of #6 in 1999. He was number one in the middle states section numerous times in singles, doubles, and mixed doubles.
He has coached thousands of players from beginners, nationally ranked, division one standouts, and grand slam champions. He is a member of the USPTA and is a graduate of the Vic Braden Tennis Academy.
Bucky has been a teacher, a principal, a superintendent of schools, a chairperson, a dean, and a consultant. He is a professor of education and a consultant for education and business. He is available for seminars, workshops, teacher and corporate training, and consulting.
You can read more about Dr. Phillips in a news article in the
To read more about Dr. Phillips in news articles in the Tribune Review...
Monongahela native, Renaissance man left legacy in baseball & basketball